Are RFPs a thing of the past for booking events?
The RFP has been a staple of the events industry for decades. It has been the go-to process for event planners when they are looking to secure a venue or sponsor, and it continues to be a critical part of the booking process in many organizations. In fact, 65% of RFPs result in a signed contract.
The scope of an RFP includes items such as: budgeting and financial details; precise specifications; inclusions and exclusions; timeline; personnel involved in the project; any legal considerations.
But in recent years, there have been signs that this time-tested approach may be going out of use. Is this just one more sign that the nature of meetings and events is changing? Or is it possible that we've taken too long to create new ways to think about RFPs?

How long does it take to make a proper RFP for an Event?
The RFP process for a hotel convention or any other event can be quite tedious, especially when you are trying to get all of the details in order. It can take weeks or even months to get all of the necessary information that is needed in order to make an effective RFP.
Not only do you need all of the necessary information in order to make an effective RFP, but you also need to be sure that it is formatted in a certain way so that it will be appealing to your potential vendors.
Things to know before writing a bidding proposal or an RFP:
Bid writing proposals are a necessary component of the procurement process. For an organization to win a contract, they must first submit a proposal outlining what they can do for the client and why they would be the best choice to provide those services. Bidding proposals are used by many different types of organizations; from construction companies to PR firms and everything in between.
Some factors that could be influencing your bidding proposal:
– understanding your client's needs and expectations
– understanding the project scope
– selecting the right service options
– proposing cost estimates and billing structures
RFP documents for booking an event
An RFP is the formal process for soliciting proposals or offers that may lead to a contract or agreement with an external entity. An RFP must outline the requirements and evaluation criteria that will be used and determine how and when responses will be evaluated.
The main documents involved in an RFP process:
Request for proposal:

The Request for Proposal (

RFP

) is a document that is typically used when an organization seeks proposals from contractors to provide the desired services. It includes all of the information about the client's needs, requirements, and specifications for the project.
Evaluation guide:

An Evaluation Guide helps a company evaluate

potential vendors

based on criteria that are important to them. It can serve as a contract between you and your vendor, so it should be drafted with clarity and precision so there are fewer misinterpretations down the line.
Contract:

This contract covers the terms of a

binding agreement between two parties

for booking a convention. It is being created so that the requesters have a clear understanding of the obligations, rights and responsibilities of all parties involved.
There are terms about date, location, payment and damages. This contract also includes provisions for alternative meeting arrangements in case something goes wrong.
Needs or pain points on a Request for Proposal
An RFP provides vendors with enough information about the client in order to make an informed decision about whether or not they want to bid on the project.
The following are several pain points that are necessary in order to formulate a Request for Proposal:
-Project details
-Project budget
-Project timeline
-Some form of estimation of deliverable
You can forget about RFPs with the right platform that enables bookings connected via API in real time, dynamic pricing and availability, smart data analytics, tailored to the needs of the customer. The booking system integrates with the company's PMS through APIs to enable instant view, quote and book.
What if you could do without all this?
The RFP is a ubiquitous tool in business and unfortunately, it's time for this system to go. With new media coming out every day, along with the high demands of professionals like you, there really is no reason to continue using such an inefficient tool that puts nonessential details first.
With the help of a good software, you can offer a list of offerings and elements necessary for requests to be resolved without the need for any appointments or physical meetings.
Spazious gives you the tools to process and have RFP at the moment.
Spazious is a platform that connects spaces and managers with your customers. It provides booking, pricing, and availability information for customers to search through.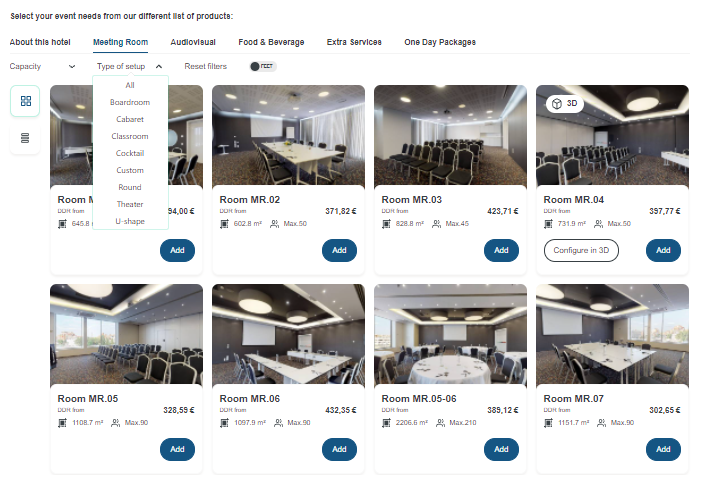 For hotels and meeting places, this software saves the time of managing reservations which would have to do manually. For customers, it is an easy way to find the best available venue for their needs in real time.
Spazious is a software that connects to your booking system and is designed to do the hard work of finding the most suitable event place for your needs. You can search through hotel rooms and spaces or conference spaces in the venue that interests you most – all from the comfort of your desk.
Spazious has made these two processes more efficient by providing dynamic pricing and availability based on customer data analytics.
Once these things are in place, this is all you need to have in mind:
Define your goals

. What would make the most of your event?
Establish your 

budget

.

Timeline 

– Schedule your calendar and program of activities.
Consider a

 list of the services

 that you want to include in the solicitation – or meet them in the App.
Think in detail what you are looking for from each 

service provider

 – you can always look at 

different options

 available.
See any 

special requests

 on the spot.
The future of the event industry is changing. With new technology, customers and managers are able to embrace new mobile-first solutions that can reduce booking friction, provide access to better deals and be more time efficient.