Guide to Conference Event Facilities and How They can Help With Your Business
Have you ever felt overwhelmed when it comes to choosing the best place to hold that conference that makes all the difference to your business? 
Bringing all our core customers together with the key influencers in our business – Our event of the year!
A conference centre is a place where people gather to discuss or promote education, business, politics, religion, entertainment or other areas of public interest. Conference rooms are usually different from meeting rooms, as they are designed to meet the specific needs of the event they are hosting so that everything runs smoothly.
Everyone has their own criteria when choosing a conference centre for events. The most important thing is to find the one that best suits your needs and fits your budget.
Conference centre facilities can make all the difference to your event experience. The following are the main considerations to keep in mind:
Number of people attending the congress.
Personal attention to guests, speakers and VIP clients in access, rooms, services and accommodation.
Types of rooms required: for meetings, conference, halls.
Event time frame.
Facilities to consider when hosting a conference event
Convenient access:
One of the most important things to consider when looking for a location for an event is whether it is accessible from hotels and transportation. Much as you would not want your conference to be way out in the sticks, so as to make it difficult for those attending to get around, neither would you want them to have a long, expensive journey. The best thing would be to find one that has convenient access to both places so that no one has trouble with getting there at all times, or provide a transport shuttle.
Lodging options: 
One of the major facilities to consider. You want to make sure that the attendees have a place to stay close by if they want to stay overnight, but you also want there to be places for them to go if they don't. This is important because it makes sure that no one is stranded without a ride or hotel room after the event has concluded.
Meeting Room Variety: 
It is especially important if there are going to be people from different backgrounds and with different needs. Some prefer collaborative environments, others prefer more private areas for working, and still others need spaces that accommodate their physical abilities.
You also need to consider the space available for both group sessions and one-on-one interactions. A large space can offer both privacy and collaboration opportunities, but it might not be practical for smaller events.
The conference hall is where people sit and listen to speakers or presentations. It's also used as a venue for workshops, exhibitions, and as a space for vendors during trade shows. A conference hall is usually equipped with tables and chairs so that attendees can have lunch or dinner while they are there. Some halls might also have audio-visual equipment if they are intended for multimedia presentations or lectures. Meeting rooms are where the actual meeting takes place – this could be formal meetings between coworkers, discussions about an issue in your company, panels of experts talking about their field of expertise, or meetings between clients to discuss their projects with you.
Brand Impact:
Brands can create a positive impact at conferences by investing in facilities.
Hosting a conference event is a major investment for any brand. This can be spent on the facilities to be used for the event or on sponsorships. But what are the facilities to consider when organizing a conference event? 
There are usually some standard amenities that are offered at most conferences though. Things like wifi, food vendors, drinks, areas, and restrooms should be available at any conference you go to. 
Another thing to consider is seating, since it doesn't make sense if the seating arrangement for your guests does not take into account their needs and preferences or your branding. Seating might also vary depending on whether you are hosting an intimate gathering or a larger one since it's important to have space for everyone to have their own designated seat without feeling crowded.
Availability:
Whether it is easy to book or not, whether they offer packages or not, and how many days in advance one can book an event.
Try your own white label meeting engine with Spazious booking engine, its cloud-based event platform for booking meeting spaces, makes it easy to book and check availability with the same ease as you now do with rooms.
In addition to having a rich user experience interface, it can be combined with your brand guidelines and website look and feel, which ensures that users convert as much as possible.
Parking:
The parking place can dictate the success of a conference, so it is important to have easy, accessible parking. Complete parking access is an important consideration to make when hosting events. If there are not enough parking facilities, you will not be able to attract prospects. So, it is best to have an ample parking place for your event.
A parking lot especially for event attendees should be available, along with enough parking spaces for vehicles working in the building.
Technology:
Availability of Wi-Fi, availability of projectors/TVs, availability of data ports (for laptops), spotlights, plugs, etc
Everything round stages, lighting, sound, presentation equipment, video conferencing has to be planned in detail.
Imagine if you could share images and 3D guides like lighting points, sockets, or projectors with details to the inch, where the whole team has access to them in their own tablet or smartphone. They would have complete details in a simple guide that is always a fingertip away. All this with Spazious' easy and affordable technology.
Digital facilities to support work and collaboration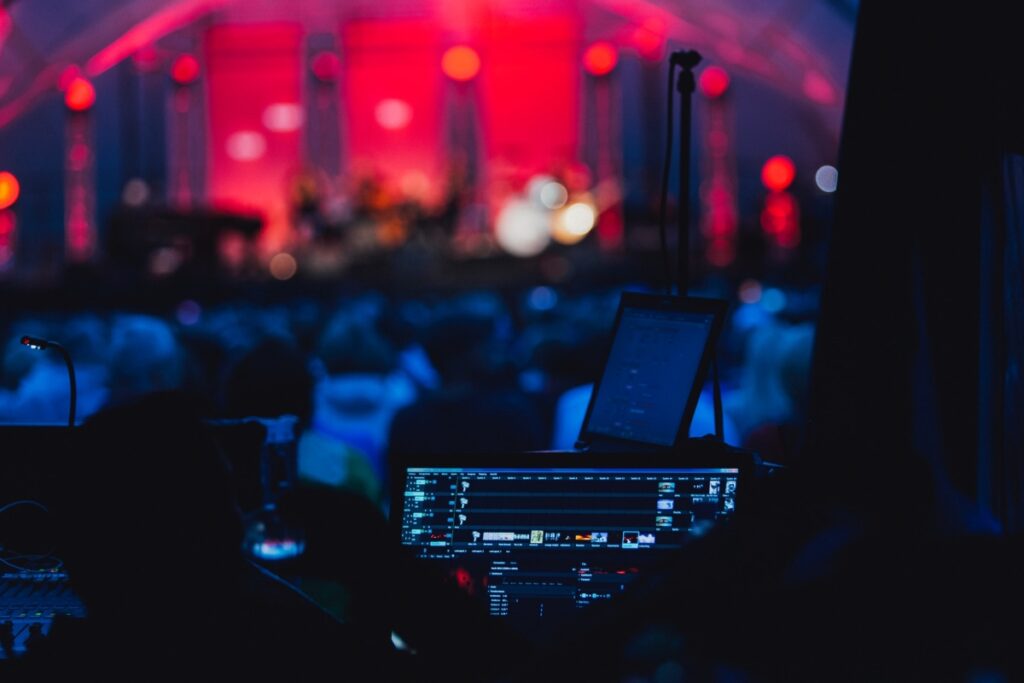 The goal is to create a space that not only accommodates the individual's needs but also fosters creativity and collaboration.
The digital workplace offers a variety of facilities that make it easier for our attendees to be productive. The facility consists of areas such as meeting rooms for holding regular meetings with your team members or clients; collaborative space for teamwork; open-air spaces where people can collaborate spontaneously; and soundproof spaces to provide privacy when needed.
These would be some required specifications to hold a digital workspace for your conference:
Easy to use – People expect equipment to work just like at home, preferably using their phone, tablet or laptop to do what they want to do.
Security – To protect data, companies not only need to make technology easy to use, but also to ensure that data – especially personal data – in applications is secure.
Integration: Companies must be able to integrate teams into the existing technology system. Provide attendees with a new digital workplace with a range of built-in technologies to facilitate collaboration. 
RoomGuide panels – These are small panels on the outside of a room. On it is displayed the availability of the room, or who is using it now. 
Interactive Boards – The digital facilities to support work and collaboration can be anything from a conference room with interactive boards, to a simple tool like a mobile phone. These tools make it easy for attendees to stay connected with each other, share ideas with one another and collaborate more efficiently.
---
It can be difficult to find new event centres, but luckily there is no shortage of options. With a little digging you should be able to find what you need!